This August Craft Month we are delighted to announce three exhibitions - two taking place at Top Floor Art, Saintfield, and the exhibition of the Top Floor Art Studio Group which is taking place at Down Arts Centre, Downpatrick.
South Down Craft Collective Launch Exhibition (Top Floor Art, Saintfield, from 7 August - 1 September)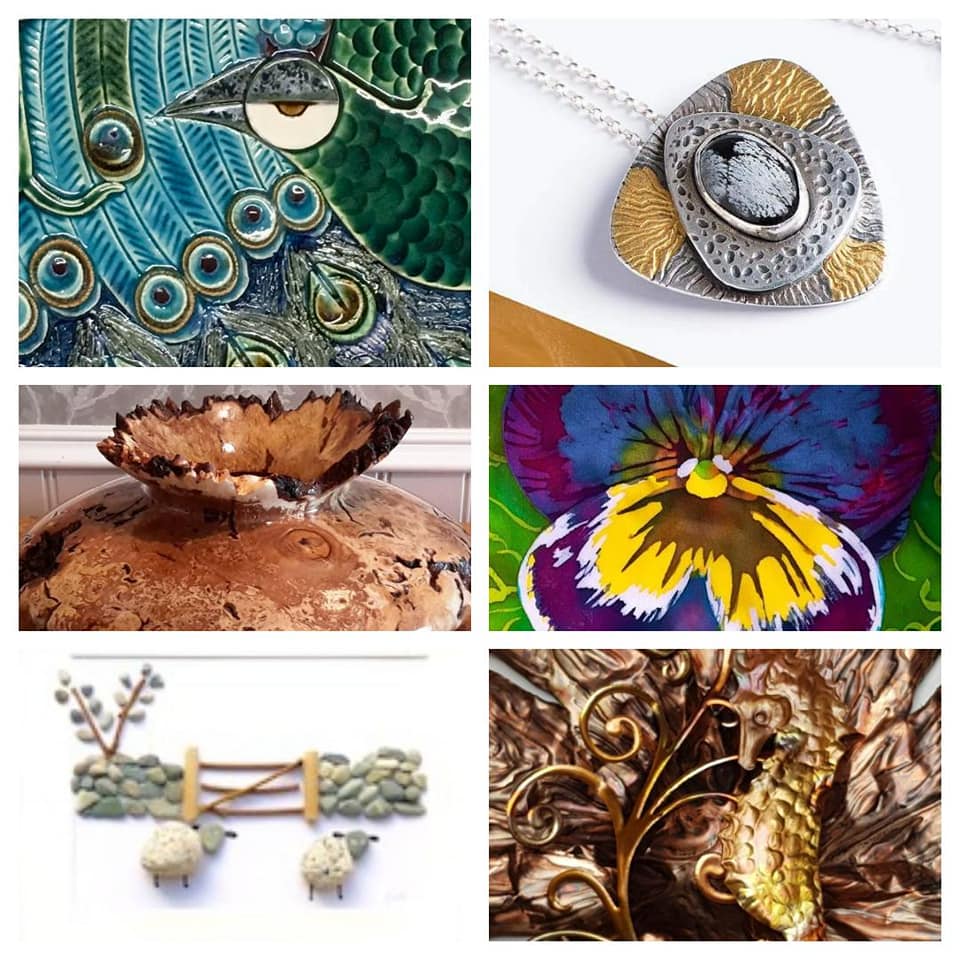 All are invited to the very first exhibition of work by South Down Craft Collective designer-makers. This selected exhibition coincides with August Craft Month and takes place at Top Floor Art Gallery.
South Down Craft Collective is a newly formed group of artists and makers living and working South Down. Handcrafted, high quality, innovative products are important to the collective and this flagship event will also launch a new montly market in Ballinahinch. Please note that Top Floor and Rowallane Hub are two of the host venues of Meet the Maker demonstrations which are part of the South Down Craft Collective's Creative Journey, featuring Bridget Pullen (Rowallane Hub, 25 August) and Slieve Croob Silver (Top Floor Art, 25 August).
ZENTANGLE® (Top Floor Art, Saintfield, 7 August - 1 September)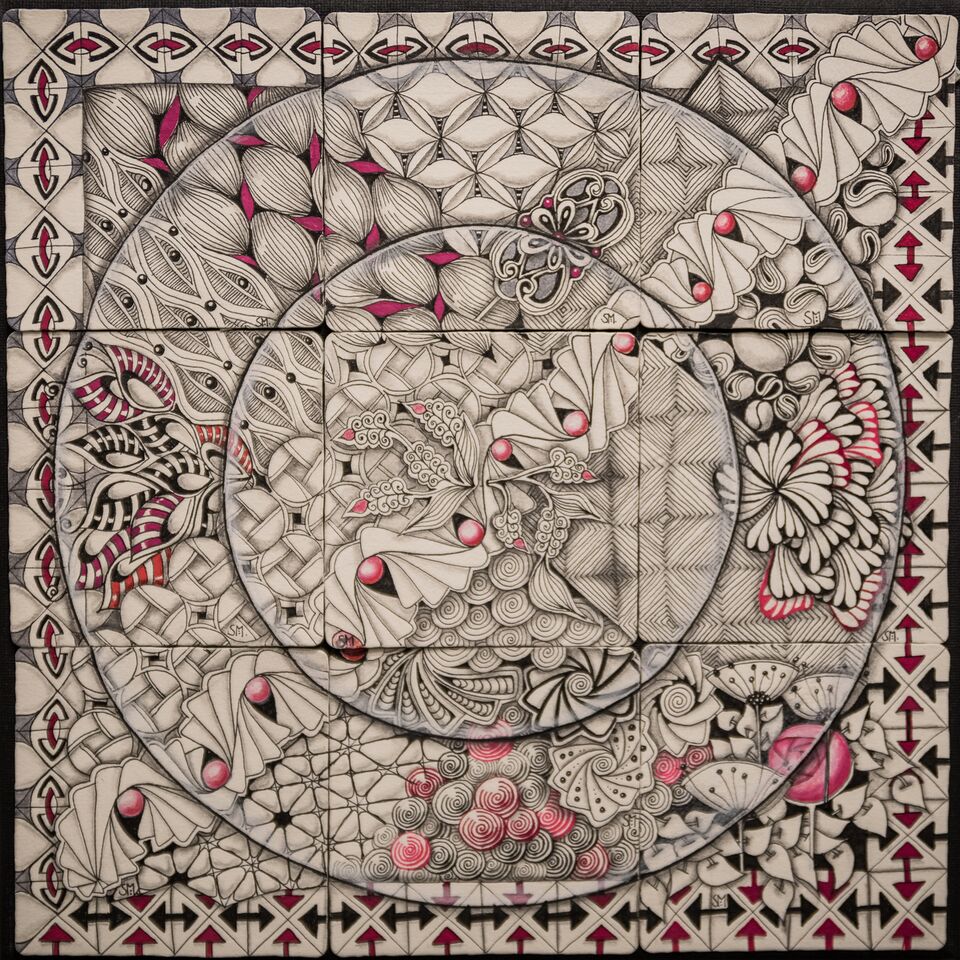 The ZENTANGLE® exhibition opens at Top Floor Art Gallery on the 7 August. Following on from an earlier exhibition in March this year in Clonakily, Co. Cork, which was arranged in conjunction with the Community Arts Centre, Caroline McNamara from Red Strand Design, Clonakilty, is delighted to be able to bring this travelling exhibition, in conjunction with the South Down Craft Collective, which will be the first exhibition of Zentangle and International Zentangle Inpsired Art in Northern Ireland.
Included are works, not only demonstrating the Zentangle method - itself a meditative art form, but also the beautiful artwork that can be created by this process as the by-product known as Zentangle Inspired Art. We are grateful to many international contributors from several countries who agreed to loan or exhibit to sell their ZIA work as well as Caroline's work and two other Irish CZT's based in West Cork and Carlow.
Fancy trying your hand at Zentangle? The aim of this exhibition is not only to enjoy, but also to offer the opportunity to participate in one of three workshops being offered on the 7 (includes private exhibition preview) and 8 August to experience this wonderful process. Find out more HERE (link to follow shortly)

AND, though not at Top Floor Art, we are excited that the Top Floor Art Studio Group presents 'YARNS' as Down Arts Centre's annual August Craft Month exhibition.
YARNS (Down Arts Centre, 3 August - 25 August)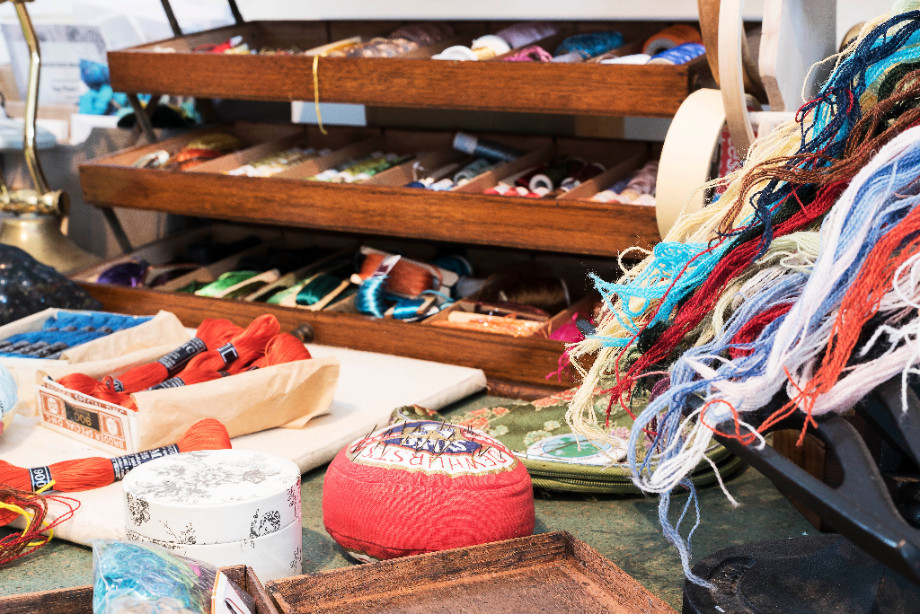 The Top Floor Art Studio Group meets regularly at Top Floor Art Gallery &Open Studios, Saintfield and has a growing reputation within the textile arts community in the UK and Ireland.
Yarns is an exhibition which celebrates the story behind our art and the materials we use. For August Craft Month, the Top Floor Art Studio Group gets personal and offers you the opportunity to immerse yourself in the history, tall tales, family anecdotes, lucky breaks and personal stories of our artists, their work and the significance of the materials they choose
to work with. Whether through textiles, glass, paint or ceramics we'll lay bare our processes and our choices. Visual impact and grand artistic vision are a given in this exhibition but combined with transparency and openness we guarantee you a glimpse of the blood, sweat, tears and laughter of the people behind the art.
Exhibition visitors can expect to find pieces - from traditional quilting through to multi-media contemporary artworks - all created with the medium of yarn in mind, and to get a glimpse of the threads in the tale, through images and narrative, of how each artist has come to love yarn and yarns. Find out more HERE.

Find out about further workshops and events taking place as part of the Saintfield Craft Extravaganza on August Craft Month programme - and to book (where required) HERE