Saintfield Craft Extravaganza

for August Craft Month 2018
The historic village of Saintfield is bursting with opportunities for the crafter and lover of local handmade designs. On offer is woodturning, glassmaking, jewellery, batik, printing, textiles and much more. You can experience workshops, demos, exhibitions at Top Floor Art Gallery, Schoolhouse Glass, Rowallane Community Hub, Spin a Yarn, Arists Open Studios and Saintfield's lively Saturday Market. This year, Top Floor Art Gallery are delighted to also host the South Down Craft Collective's opening exhibition and be part of their Meet the Maker Creative Journey. The visitor is assured of a craft extravaganza.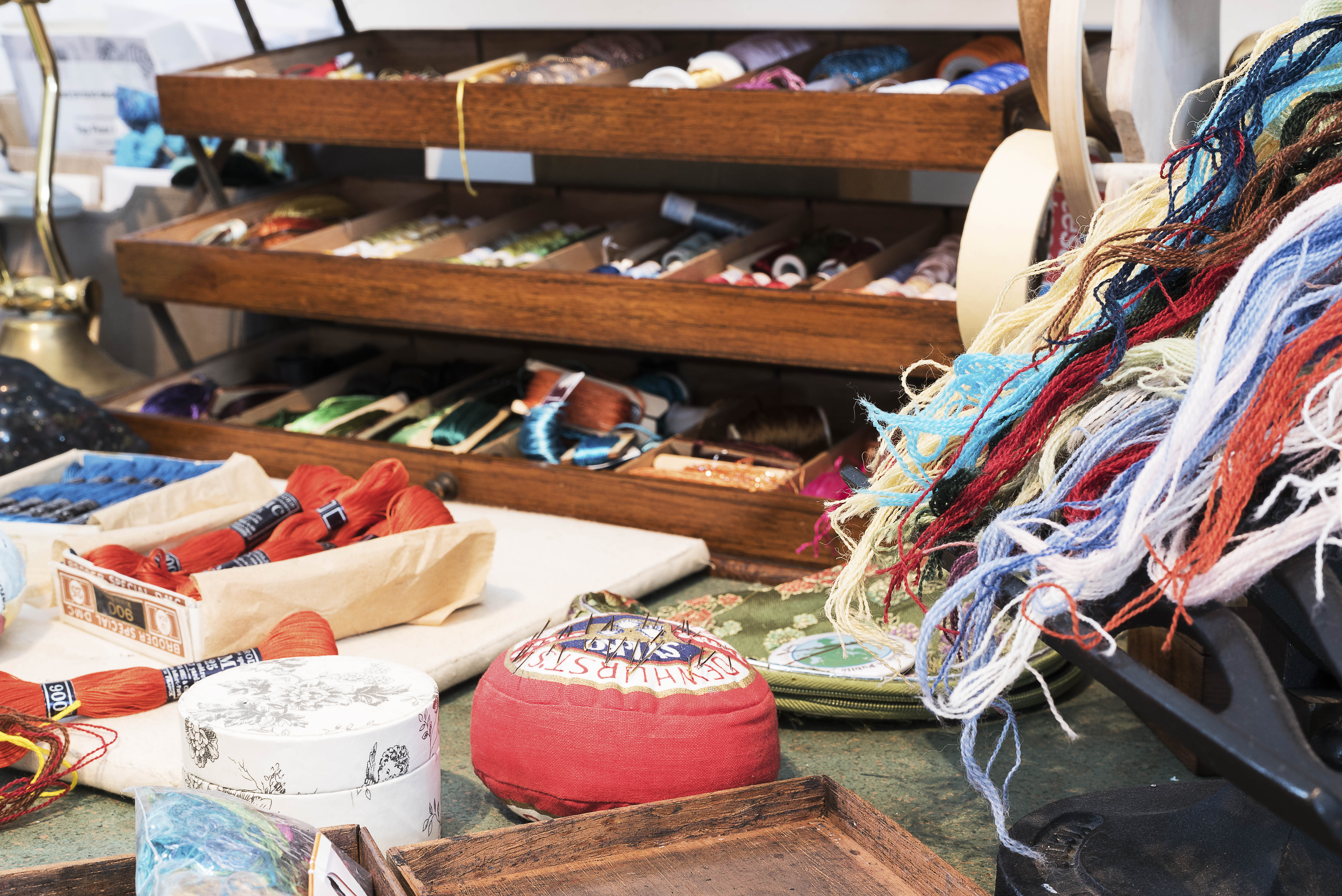 DATES FOR YOUR DIARY & WORKSHOP BOOKING
Saturday, 4 August: Intro to Himmeli and Himmeli Planter Workshop, Craft Adventure workshop at Top Floor Art (10.30am-12.30pm)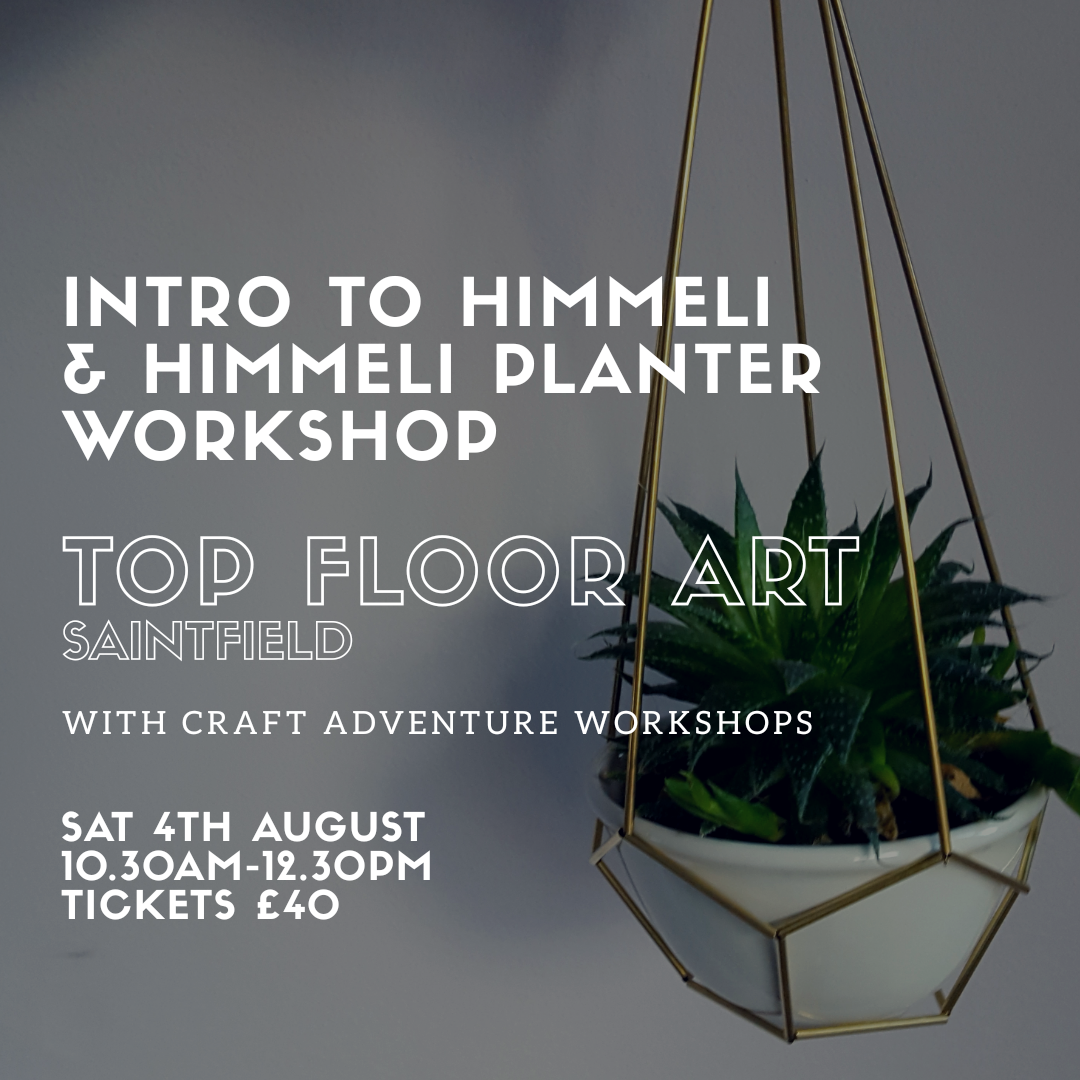 Join Craft Adventure Workshops for this fantastic August Craft Month workshop taking place at Top Floor Art. The intricate Finnish craft of himmeli will be introduced to you in the traditional method of using natural straws. After practicing some geometric shapes, you will then use an alternative method with cinammon sticks and create a beautiful smelling prism for your home. Once you have mastered the basics of himmeli, you will then create a fantastic planter to take home. It is contstructed using brass tubes and wire, and finished with leather to hang it with. You will also get to plant your own succulent to go inside it.

Price per person £40. Book via Craft Adventure HERE.

Tuesday, 7 August: SDCC Launch Exhibition at Top Floor Art runs until Saturday, 1 September. All welcome.
South Down Craft Collective is a newly formed group of artists and makers living and working in South Down. Handcrafted, high quality, innovative products are a hallmark and this flagship event will be also be launch of their new market in Ballynahinch during August Craft Month, which will be held monthly from then. Collaborations between makers, other craft collectives and local craft venues will be key to the collective's development, as well as providing craft related learning opportunities and community-based work. Find out more about our August Craft Month exhibitions HERE.
Tuesday, 7 August: Afternoon Tea & ZENTANGLE® Launch

.. An easy to learn, relaxing fun way to create beautiful images by drawing structured patterns...
This exhibition showcases the work of Caroline McNamara CZT, from Red Strand Design, Clonakilty Co. Cork along with beautiful artwork from many contributors from several countries, including Europe, Australia, Singapore and the USA who have agreed to loan their Zentangle Inspired Artwork. A limited number of artworks for sale. Find out more about our August Craft Month exhibitions HERE.
Tuesday, 7 August: Special Opening 'Tea and Tangle' Workshop Experience Event 2.30 - 5.30pm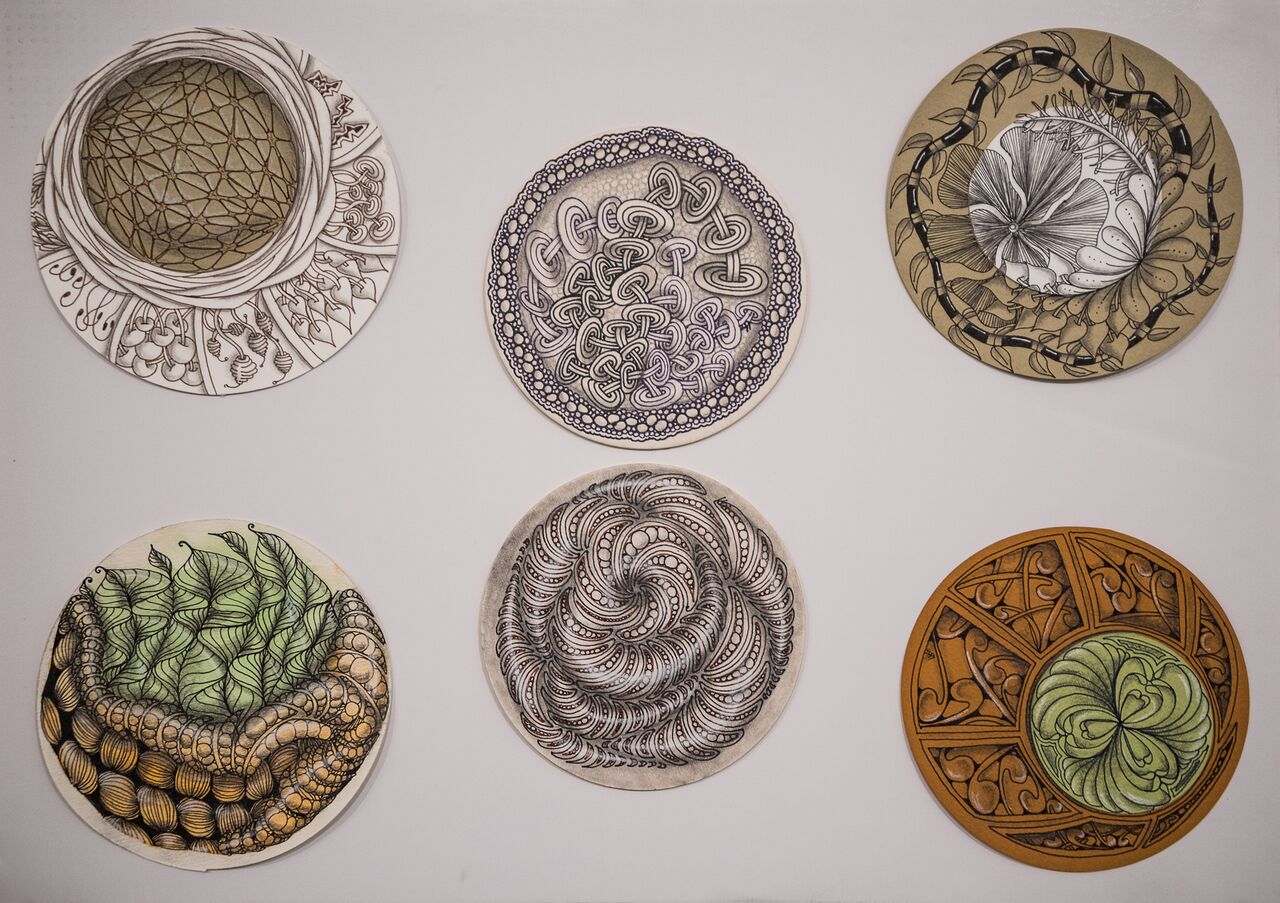 Including a private, preview tour of the inspiring ZENTANGLE® exhibition, this full introductory workshop to the Zentangle Method comes complete with a delicious Afternoon Tea of homemade fair trade baked goods catered by Tribe Coffee and an invitation to attend the launch of the Top Floor Art August Craft Month 2018 exhibitions on the same evening. During the workshop, you will be creating your own Zentangle designs ideal for application in future creative projects whether it's textiles, paper art, ceramics, jewellery or you can just enjoy the loveliness of your finished piece. Tutor Caroline McNamara of Red Strand Designs will guide you through this intricate, meditative design process. You'll be amazed at what you can produce! We guarantee a Zen experience; relazing and creative. All materials included. Art Materials kindly supported by Royal Talens, Netherlands.

Price per person £45.00. Booking essential as numbers strictly limited. BOOK NOW

Wednesday, 8 August: Zentangle Workshop (x 2 at 11am - 1pm AND 2-4pm)
Take time out to join us for a relaxing couple of hours and indulge in the Zentangle Method. Produce your own beautiful artwork to take away. Use as inspiration for other craft projects or simply enjoy the beauty and frame your own artwork. Morning and afternoon sessions offered. All materials included. Art materials kindly supported by Royal Talens, Netherlands.
Price per person £30. Booking advised. BOOK NOW

Saturday, 11 August: Textile Jewellery Workshop (10am - 12.30pm)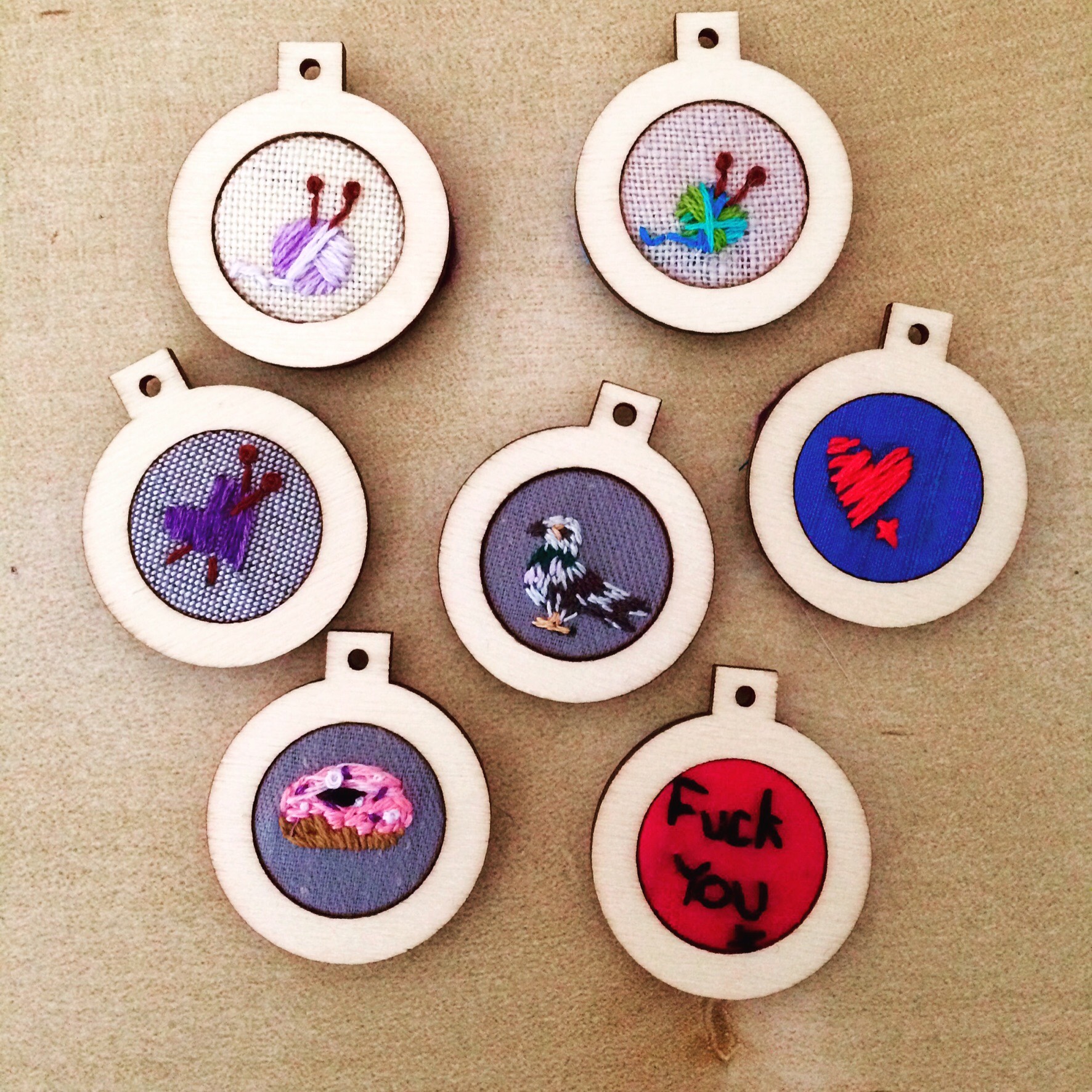 Learn to translate you big ideas into miniature hand-stitched designs to wear. Using a variety of embroidery stitches and tiny hoops, our textile expert will take you through the process of sketching your design through to finishing it into a delicate piece you can be proud to display as a necklace or as a brooch. From flowers, to geometric designs to punchy epithets, you can choose from prepared designs or draft your own. All materials are included, and while previous experience will be helpful, it is not necessary.
Price per person £27. Age 16+ 10 places available. BOOK NOW

Saturday, 18 August: Family Tree Textile Panel Workshops (10am-4pm)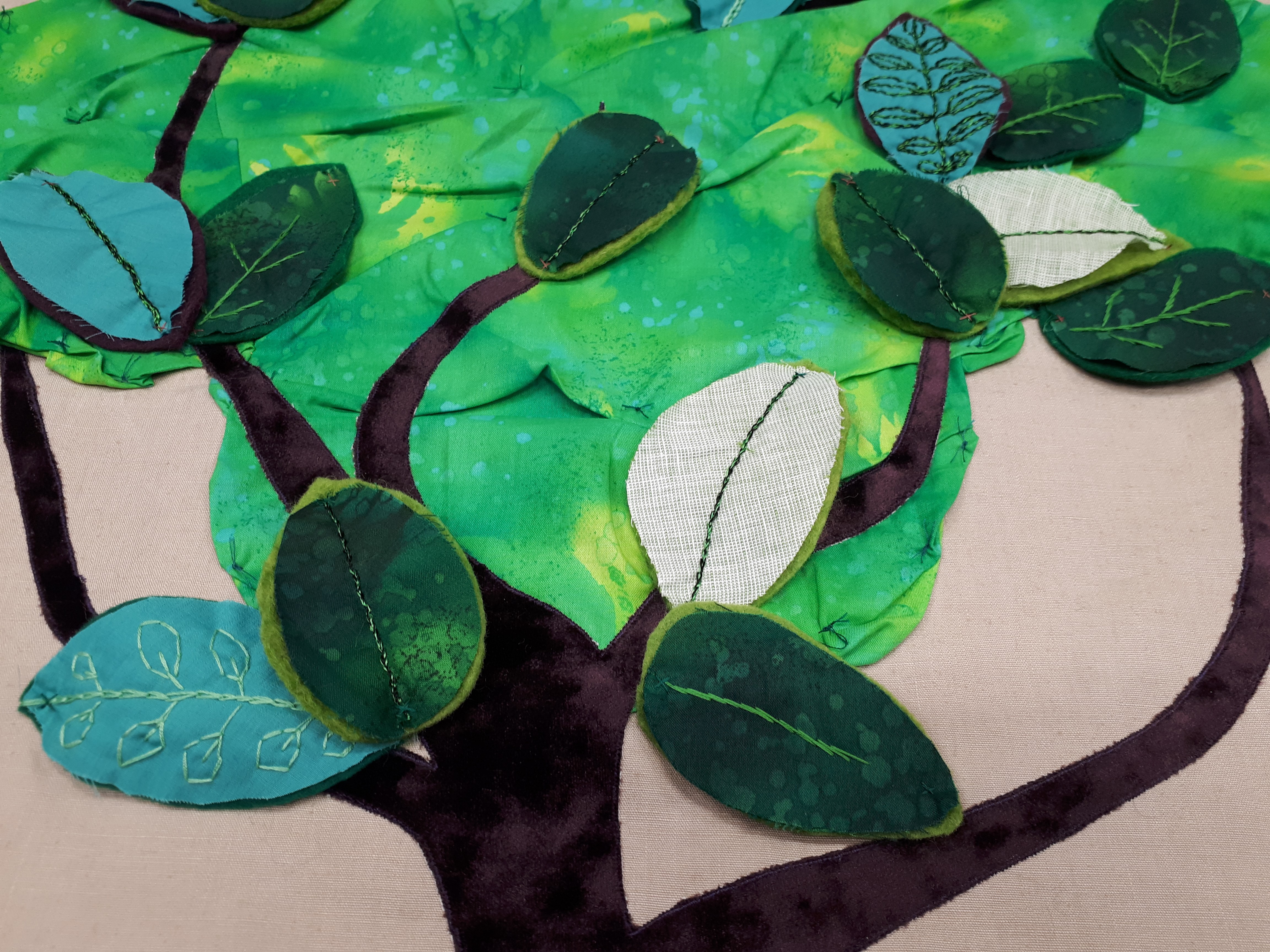 Explore your family history and create a beautiful textile hanging panel to illustrate your research. In this full day workshop, Crafty Historian Dr Pamela Emerson will lend you her research expertise and help you explore your genealogy and use the internet and local street directories to delve into your family history. With the details pinned down, Top Floor Art embroidery and textile artist Emma Whitehead will provide you with guidance and materials needed to transform your hard work into a beautiful textile family tree. Using applique and embroidery techniques you will create the tree, including leaves with text illustrating your family history. The resulting artwork will be a beautiful panel ready to hang - ideal for a personal bespoke gift or an heirloom to pass on to your descendants. The workshop takes place amidst beautiful and inspiring artworks in Top Floor Art's new First Gallery. Lunch, catered by Tribe, is provided - please advise of any dietary requirements when booking.
Suitable for ages 12+ (Children to be accompanied by an adult). Max participants 10. Price £60 includes refreshment during the day and lunch. BOOK NOW
Saturday, 25 August: 'Meet the Maker' with South Down Craft Collective Creative Journey - all welcome - no booking required.

Slieve Croob Silver @Top Floor Art (11am-3pm)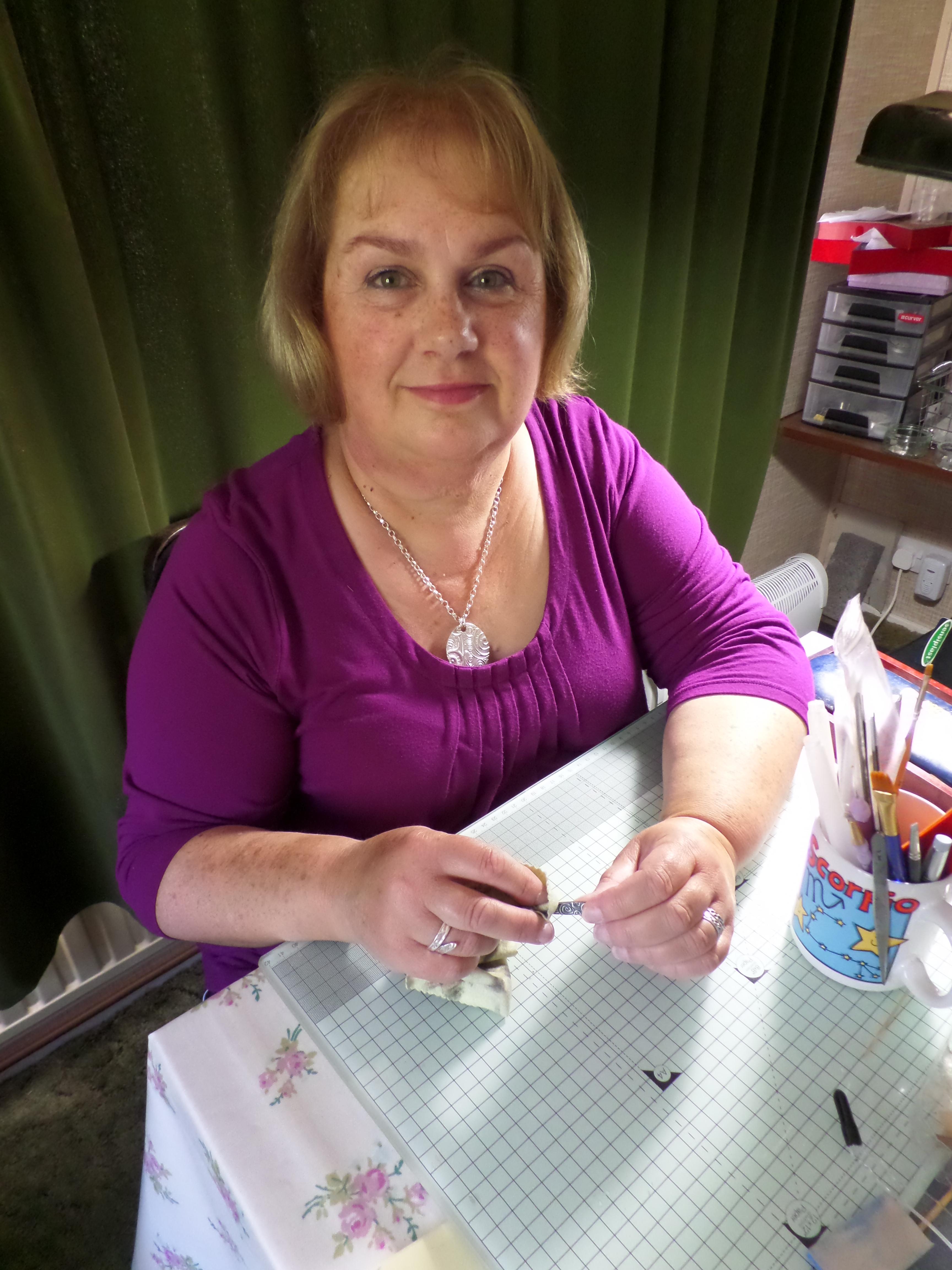 Pat Wilson is a second career silversmith from Co. Down whose passion is to design and make jewellery from silver metal clay, an exciting and versatile material containing recycled silver. This material creates infinite possibilities for designs and which can be hallmarked as .999 Fine Silver. Pat says: "My signature themes are hearts, flowers, leaves and Celtic symbols. I am inspired by the countryside around Slieve Croob which dominates the landscape where I live and work."
Pat often makes textures in silver which have been taken directly from organic materials such as leaves, pods, twigs, bark and seashells. Pat is a certified Level 2 Art Clay teacher and is one of only two on the island of Ireland. Pat is happy to teach small workshops of one or two.
Check out further South Down Craft Collective 'Meet the Maker' sessions happening at Rowallane Hub also.

Saturday, 25 August: Drop-in Paper Windmill Workshop (10am-12.30pm)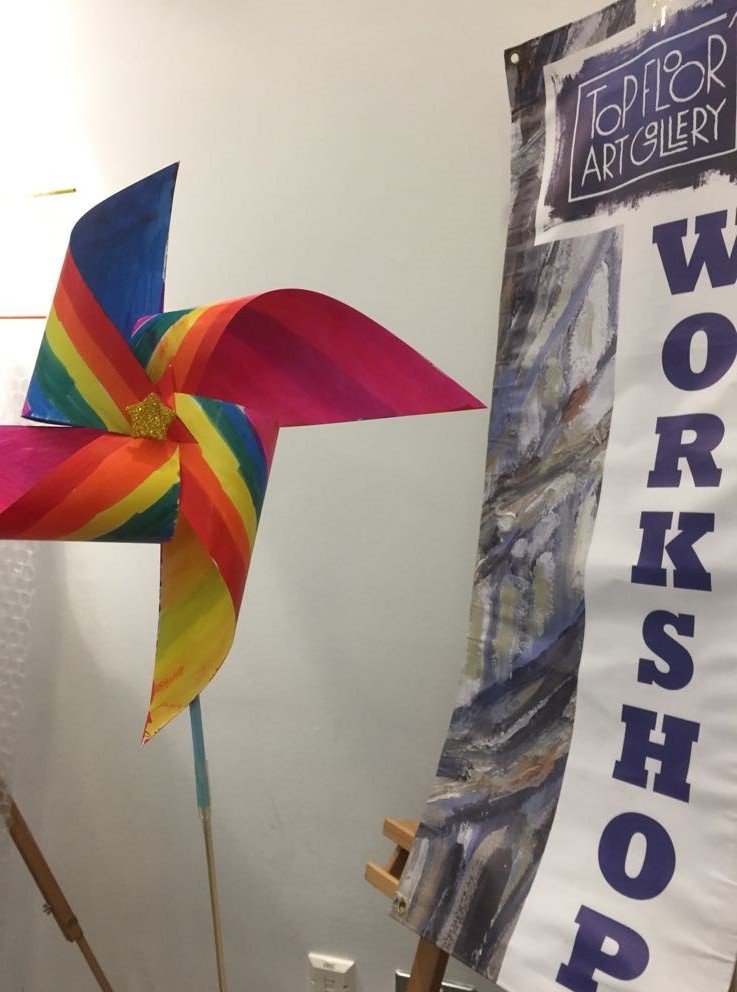 Do you remember paper windmills from childhood? Drop in to Top Floor Art on the 25 August anytime between 10am and 12.30pm, and work with Janice McHenry from Top Floor Art Studio Group to create your own colourful paper windmill to take home! All meterials provided; template to decorate and help with making it. Suitable for all ages; create some memories for your children or relive your own (children must be accompanied by an adult).
While in the Top Floor Gallery, you can view the interactive paper windmill installation designed and created by Janice McHenry; first shown in the Ulster Musuem as part of Get Creative Month 2018. You can engage with the installation by trying to make it spin. Top Floor Art is delighted to host this interactive art intallation.
A Note About Accessibility
Please note Top Floor Art is only accessible via a staircase; please do contact us if you have mobility difficulties.
---
TOP FLOOR ART TO TAKE PART IN NATIONWIDE ART PROJECT TO CELEBRATE THE CENTENARY OF THE WOMEN'S VOTE

Top Floor Art is delighted to announce our support for PROCESSIONS, a mass participation artwork to mark the centenary of the Representation of the People Act, which gave the first British women the right to vote.
PROCESSIONS is produced by Artichoke, the UK's largest producer of art in the public realm, as part of 14-18 NOW, the UK's official arts programme for the First World War centenary.
PROCESSIONS will invite women and girls across the UK to come together on the streets of Belfast, Cardiff, Edinburgh and London on Sunday 10 June 2018 to mark this historic moment in a living, moving portrait of women in the 21st century.
Top Floor Art in partnership with Rowallane Community Hub is one of 100 organisations working with women artists up and down the country in the lead-up to the event, as part of an extensive public programme of creative workshops to create 100 centenary banners which will form part of this vast artwork.
The banner-making workshops will focus on text and textiles, echoing the practices of the women's suffrage campaign and will be spaces to consider the power of the vote today and our shared future. The banners made will represent and celebrate the diverse voices of women and girls from different backgrounds.
Top Floor Art and Rowallane Community Hub are running a series of workshops with the Top Floor Art Studio Group and Craft Circle, local craft group Killyleagh Crafty Ladies and as part of the Get Creative Festival 2018 where members of the public will also have a chance to participate in the project by adding buttons,beads and stitching to the banner.
Working with textile Artist Emma Whitehead, participants will have the opportunity to discuss and research the history of the women's suffrage movement; it's relevance today and feed into the design, construction and decoration of this unique centenary banner.
All materials and equipment will be supplied for the completion of the project.
Processions workshops begin on 27/2/2018 from 4pm - 8pm at Rowallane Community Hub, Saintfield. These are drop in sessions, open to all and there is no requirement to attend every workshop.
If you are interested in taking part, contact info@topfloorart.co.uk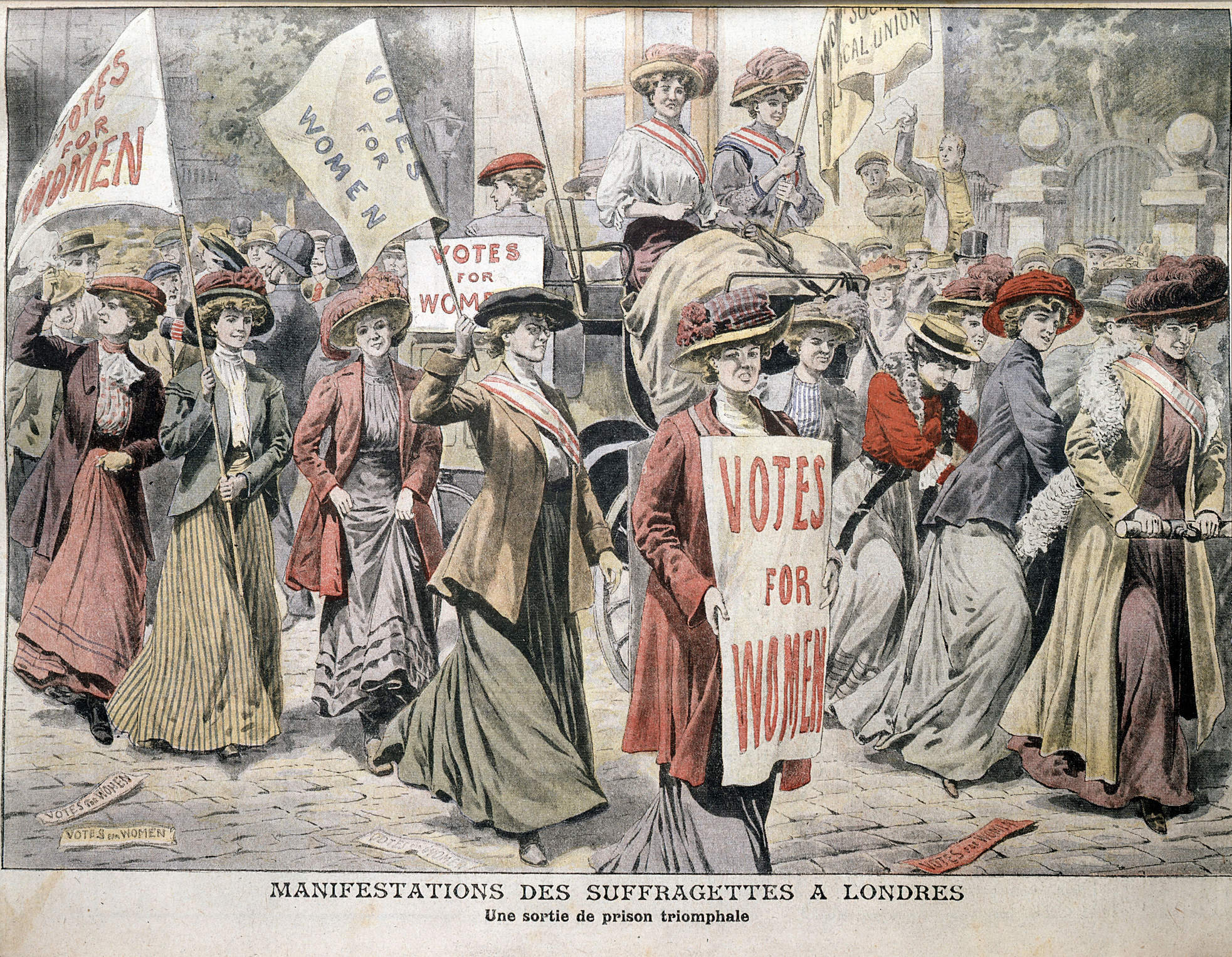 ---
Previous Events
Do you want to know what else we have been up to in the last while - such as the recent World Wide Knit in Public Day? Check out our blog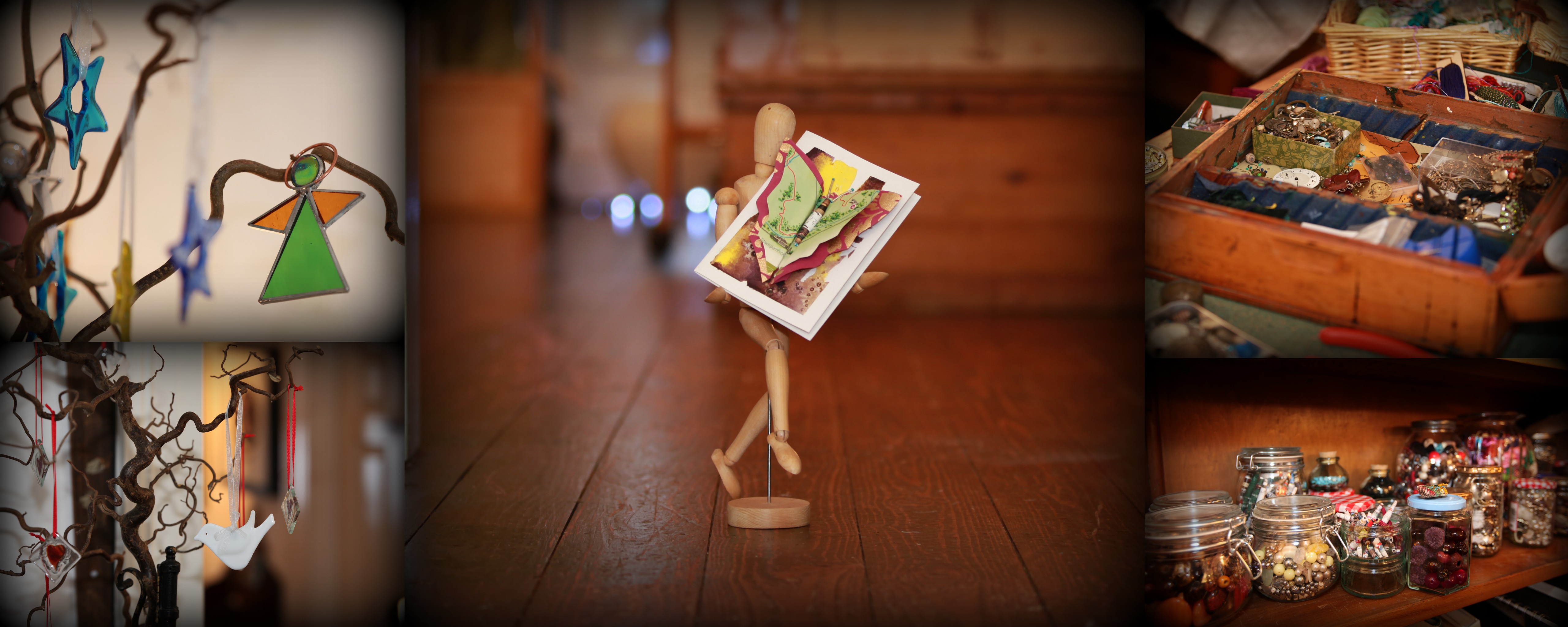 Copyright © Top Floor Art 2015. All Rights Reserved.